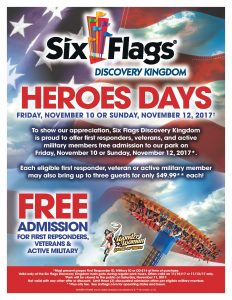 As we continue our road to recovery and rebuilding, let's acknowledge and show our appreciation for the unsung heroes of our North Bay wildfires through our recovery period.
There are many heroes who deserve recognition for helping the Napa Valley community since the fires broke out on Sunday, October 8th. We, at 99.3 FM "The Vine" and 1440 AM "Voice of Napa Valley," acknowledge and thank all of the first responders and citizens for their kindness and bravery!
Having talked with first responders, government officials, and all of you that have called us, we realized there are great stories of people who did really courageous, caring things to help neighbors, animals, agriculture, and even strangers. Their stories have not all been told. Six Flags Discovery Kingdom and Wine Down Media would like to change that by sharing and celebrating the stories of "Unsung Heroes."
If you have such a story, please submit it below. Six Flags Discovery Kingdom and Wine Down Media will choose several "Unsung Heroes" and award their bravery with a 4-pack of Season Passes to ALL Six Flags theme parks, along with a $250 gift card.
Six Flags Discovery Kingdom will also be hosting a Heroes Appreciation Day on both Friday, November 10th and Sunday, November 12th – first responders & military will enter the theme park FREE with ID and guests' tickets will be $49.99 each. The theme park will be closed on Saturday, November 11th. See http://www.sixflags.com for details.
Submit yours or a friend's "Unsung Hero" story today for their chance to be recognized with gifts and have their story heard on the radio!
#NapaUnsungHeroes   #NapaStrong