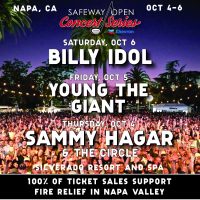 The Safeway Open presented by Chevron
Jeff Sanders, EVP of Golf Events, joined Bob on the Good Morning, Bob! show to announce the lineup of rock bands who will at the Safeway Open Concert Series at Silverado Resort and Spa in Napa, CA, Oct. 4-6, 2018 – Sammy Hagar and the Circle, Young the Giant, and Billy Idol.
Listen to the inside scoop from Sanders' conversation with Bob:
For more info or to buy your tickets visit Safeway Open website here.