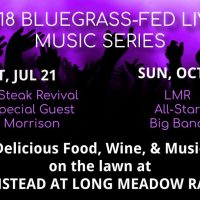 Long Meadow Ranch's Vice President of Brand Marketing, Jeff Meisel, tells host Bob St. Laurent the details of the Bluegrass-fed Live Music Series and the Live Fire Guest Chef series, in addition to special musical guests, and more. All proceeds of the Live Fire Guest Chef Series and the LMR All-Star Band benefit the Timothy Hall Foundation, which is dedicated to supporting innovative, cost effective K-12 school programs in arts and sciences, including school gardens, animal husbandry projects, and music curriculum.
Get the inside scoop from Jeff Meisel:
Visit Long Meadow Ranch's Website to access more information on the event and purchase your tickets!