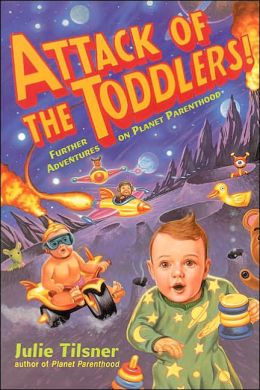 If I sound a little funny on the air this week, its because my child is trying to maim me. No, she hasn't suddenly morphed into the evil spawn of Satan (though her tantrums can sound a little devilish), she's just being a toddler. A toddler with a THIRST FOR BLOOD!!!!!
Ok, so I'm exaggerating. But she really has caused me some bodily harm this week. See, the child is starting to experiment with cause and effect. This has been going on for a while. What happens when I tear this page in the book? What happens when I squish my peas between my fingers then feed them to the dog? What happens when I throw my plate off my high chair. This is all totally normal stuff (at least according to all the child rearing books and blogs), but this week she decided to try her little experiment on me.
The other morning, she struck. it was a pretty normal morning. We walked the dog as a family. She and I kissed Daddy goodbye and I made us some breakfast. She proceeded to dump most of her breakfast down her pajamas while I downed my oatmeal at lightning speed before she started throwing bananas. I cleaned up the dishes while she ran around terrorizing the dog. Just a normal Thursday morning.
Then I decided to attempt my knee stretches while she was awake. In a misguided attempt to start jogging, I discovered that I have no knee strength and therefore am trying to build stronger knees so that when the Zombie apocalypse comes, I can out run most without being hobbled. Normally, I do the stretches during my normal workout, which (as has been well documented on this blog) happens while the child is asleep. But this morning, she woke up before I could get to them (stupid time change). So, while she was busy 'reading' her books, I started the stretches.
Things were going fine until I 'borrowed' her ball to do thigh squeeze things that have a technical name I don't remember. Well, she was not in the mood to share the ball, so I distracted her with another ball, playing the toddler version of fetch until I was done with my reps. Since I only had one more exercise to do, I though we were probably in the clear and was mentally planning how many tantrums would go into getting her dressed and ready for a trip to the park. Then it happened.
I was laying on the ground, stretching one leg up with a towel, when the child came toddling adorably over to me with her heaviest sippy cup in her hand. And it was full. As I was asking her if she needed more water, she threw the cup at my face. Or maybe she dropped it on my face. Either way, it landed on my lip, leading to bleeding, swelling and overall pain and unhappiness. After a few moments of shock, I managed to stay pretty calm, only swore a few (thousand) times, and hopped up to put some ice on my now swollen, bleeding lip. I didn't yell or blame her, but we didn't make it to the park that morning.
Since then, the child has kept her sippy cups away from my face, thankfully, but has managed to kick me in the face during a bout of tickling and head butt me while putting on her shoes. Is she doing all of this on purpose? My logical side says no, but there's a little part of me that's wondering if a changeling has somehow possessed my child and is out to get me. I blame the time change because really, it just sucks so why not. And now, I shall take my maimed face back home and see what new damage she will inflict. Is there a support group for parents abused by toddlers?
Tracy