Gabriela Fernandez – Weekends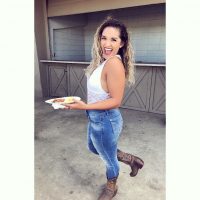 Gabriela (also known as "Latina G" to her Instagram followers) is a true peppy, free-spirited soul blessed with the "gift of gab!" Growing up in Saint Helena, her teachers always told her that her mother named her right because of her very gregarious nature. Her bubbly, charismatic personality only grew with age and helped launch her into the exclusive Jazz Choir of Saint Helena. Through jazz, she was able to begin traveling the world, visiting countries like Spain and France. This is where Gabriela developed her passion for travel, culture, and food. Shortly after the jazz tour in Europe was over she became extremely ill, prompting multiple hospital visits over the next two years. Eventually she was diagnosed with Celiac Disease–however, this did not stop her love and passion for food. If anything it has prompted her to get creative in the kitchen and do what many don't dare to do: play with food! Her friends often joke with her saying that she should start her own Cooking with Gabriela sessions. She's living proof and showcasing that the Celiac life doesn't have to mean "the bland life!"
After finishing high school at Saint Helena High, Gabriela went on to Saint Mary's College of California where she graduated with a Business Marketing degree. While at Saint Mary's she immediately became involved in various outlets at the college. Gabriela interned for the Women's Sexual Assault Center on campus, became Student Body President of her class, President of the Latin American Student Association, and was the founder and President of Gael Sisterhood–an inclusive group for young ladies who share a bond created by the various club, college, and community events they take part in, specifically social justice advocacy and service projects. Her strong sense of pride as an independent Latina woman (Mexican and Salvadorean) has driven her to push past boundaries and consistently strive to reach greater heights, always with the genuine intention and passion for giving back and helping others in her community. During the summer of her freshman year of college, Gabriela joined the Boys and Girls Club as a Recreational Leader. Boys and Girls Club had been Gabriela's second home growing up so she wanted to return the love and give back to the community and family that shaped and gave her so much.
Before graduating Saint Mary's in 2015, Gabriela had the opportunity to live abroad in Rome, Italy for six months, further developing her love for travel, culture, and food. While abroad she visited Spain 
again
 (she's obsessed!) and the Netherlands. Gabriela has also had the opportunity to road trip through Mexico and play soccer in Costa Rica. She absolutely loves concerts, the arts, shoes, movies, the outdoors (hiking), and all things "sports." Her adventurous spirit keeps her movin and groovin and searching for the next thing to dive into and explore. In January of 2018 she was presented with the opportunity to co-host a show for KVON's 1440AM station. Although she had never done radio in her life, she was eager to jump at the opportunity and see where life would take her. Today, she's both the co-host on La Hora with Icela y Gabriela, every Thursday from 
9-10AM
, helping bridge the gap for the Latino community throughout the Napa Valley 
and
 KVYN's 99.3 FM The Vine's Weekend DJ. More than anything, Gabriela is happily proud to call herself 
mom 
to a beautiful baby boy named Anthony Kai, born in February 2017.