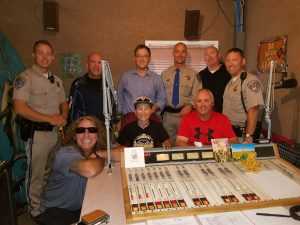 Our studios were jam packed on July 12th with supporters for Travis Risley, 16-year-old Napa High School student, who visited Bob on  99.3 The Vine's Good Morning Bob! show.
Listen to Bob's interview with Travis Risley above
---
Travis Risley, 16 year-old from Napa High School and the son of a Napa police officer, embarked on a 1,000 mile journey in an effort to raise awareness and funds for the California Peace Officers' Memorial Foundation (CPOMF).
Bike stand went up in Brookings, Oregon at 6:30am on Friday, July 7th. Risley is expected to reach the Mexico border on Monday, July 24th. With only 3 days off out of 18 days he made time to roll into our studios on his Napa home visit.
Napa Police Officers' Association will cover all of Risley's travel expenses to ensure that all donations go directly to CPOMF.
If you would like to donate to Travis' Trek, click here.
Continue tuning in as we follow Travis' trek.
Good Luck & Be Safe Travis!!