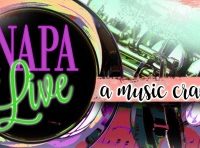 Napa Live is Back!
Sunday, June 4th * September 3rd * October 1st
Downtown Napa's music crawl, featuring 40 bands at 30 locations, is Sunday, September 3rd from Noon to 6 p.m. This one has it all, from classic guitar to classic rock, blues to bluegrass, and surf rock to songwriters. Last year was the seminal event, and was so popular that it will be back two more Sunday's this year, including October 1st.
Best part about it? It's all free, and it's all local bands.