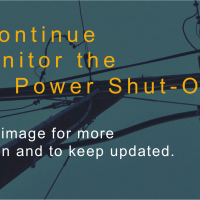 Wine Down Media continues to monitor the extreme weather conditions and PG&E's Public Safety Power Shutoff (PSPS).
Our audio platforms 1440 AM KVON & 99.3 FM The Vine KVYN are here to serve you.
Below are some tips on how to prepare for a power outage:
Have your safety plan ready, including animals
Prepare an emergency supply kit
Keep all devices charged
Have cash and a full tank of gas
Keep a battery-operated or hand crank radio nearby
For additional  tips visit: PG&E Power Outage Tips
PG&E  stated "customers may be affected by a power shutoff even though they are not experiencing extreme weather conditions in their specific location. This is because the electric system relies on power lines working together to provide electricity across cities, counties and regions."
Timeline: 
On Tuesday (10/8) at 5:27P, Napa County announced its Emergency Operations Center (EOC) was activated at noon today in preparation for the Public Safety Power Shutoff (PSPS) event. Charging Centers in five locations where local residents will charge their medical and electronic devices from 8am to 6pm beginning Wednesday (10/9) until power is fully restored.
On Tuesday (10/8) at 4:41P, the Napa Superior Court informed Wine Down Media that the power shutdown will not affect the Criminal or Historic Courthouses. The Juvenile Courthouse was closed on Tuesday after close of business and will reschedule all matters scheduled to be heard between Wednesday and Friday (10/9-10/11) to Department F in the Criminal Courthouse.
On Tuesday (10/8) at 4:38P, Napa County Office of Education notified that Napa Valley USD, St. Helena USD, and Howell Mountain ESD are closed on October 9 and 10. Calistoga JUSD and Pope Valley UESD are open on October 9 and 10.
In addition, Napa County Office of Education – after school and preschool programs on NVUSD campuses will be closed. The St. Helena Child Development Center will be closed. All other programs operated by Napa County Office of Education will be open.
On Tuesday (10/8) at 1:53P, Napa Valley Unified School District confirmed school closures for Wednesday (10/9) and Thursday (10/10).
As of Tuesday (10/8) at 1:20P, PG&E stated that it will proactively turn off power for safety to nearly 800,000 customers across Northern and Central California. Community Resource Centers in several locations will open beginning on Wednesday, October 9, at 8AM. Centers will remain open during daylight hours only. Restrooms, bottled water, electronic-device charging and air-conditioned seating for up to 100 will be available.
As of Monday (10/7) night at 9P, PG&E reported that customer impacts may include:
| | | |
| --- | --- | --- |
| Napa | 32,124  | Napa, Saint Helena, Calistoga, Angwin, Pope Valley, Rutherford, Oakville, Deer Park, Lake Berryessa, Yountville, American Canyon |
– – –
Napa County has established a Public Information Line for the Emergency Operations Center. Please call 707-299-1501 for information regarding the Public Safety Power Shutoff (English and Spanish).
El Condado de Napa ha establecido una línea de información pública para el Centro de Operaciones de Emergencia. Por favor llame al 707-299-1501 para información acerca de los apagones de electricidad por motivos de Seguridad Publica.
– – –
Stay tuned to 1440 AM KVON & 99.3 FM for the latest information. Visit the stream on our websites kvon.com & 993thevine.com and check radio apps including the Tune-In app.