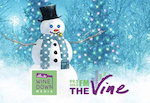 This Holiday Season marked our 2nd annual Kids Holiday Sing-Off! In the spirit of the Giving Season, we thought we'd give all our listeners the chance to catch up with all of the performances. Enjoy!
Happy Holidays to all, from 99.3 The Vine!
The Judges:
David Ronconi, Popular Local Acoustic Musician
Karen Pinomaki, Lucky Penny Productions' lead of the Napa Academy of Performing Arts program
Lauren Bjelde, Vocals for Royal Jelly Live, a San Francisco Soul Rock Band
Jesse Lemme Adams, Accordion/Keys/Guitar for Royal Jelly Live
Winner: Ainsley
(age category: 12-years old & younger)

Winner: Aedyn
(age category: 13-years old to 19-years old)

Listen to All Kid Participants & Judges Commentary Below:
This contest is expired.