"Your Health" with Dr. Grigsby

"Your Health with Dr. Eric Grigsby" airs live every Wednesday at 8:30am.
Discover, hear and share health topics about care and well being, along with the medical research taking place. Dr. Grigsby will take "Your Health" to the next level.
"Your Health with Dr. Eric Grigsby" is brought to you by Neurovations, a patient care and innovations company, providing "The best care for every patient, every day." Neurovations was founded in 1992 by CEO Dr. Eric Grigsby. Today, Neurovations is a national leader in medical device and pharmaceutical innovation, clinical research, and a world-class education program focusing in pain and neuroscience. Dr. Grigsby is deeply connected to the healthcare community through our non-profit HealthRoots Foundation and to the Napa community through Rocca Family Vineyards, a producer of award-winning wines.
Learn more about Neurovations at Neurovations.com
If you have a question for Dr. Grigsby, please submit via Text to 1-844-333-6-993 or Email: Info@WineDownMedia.com
---
About Dr. Eric Grigsby: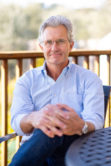 Physician, Innovator, Community Servant.
Dr. Eric Grigsby, nationally-renowned pain care specialist and founder of Napa Pain Institute, has left an impact in his community—and around the world—through his work in pain management. Dr. Grigsby's interest in health care and community service began even before medical school as an undergraduate student at Brown University. Grigsby volunteered with disabled children at the Boston Children's Hospital department of orthopedic surgery.
To read more about Dr. Grigsby, click here.