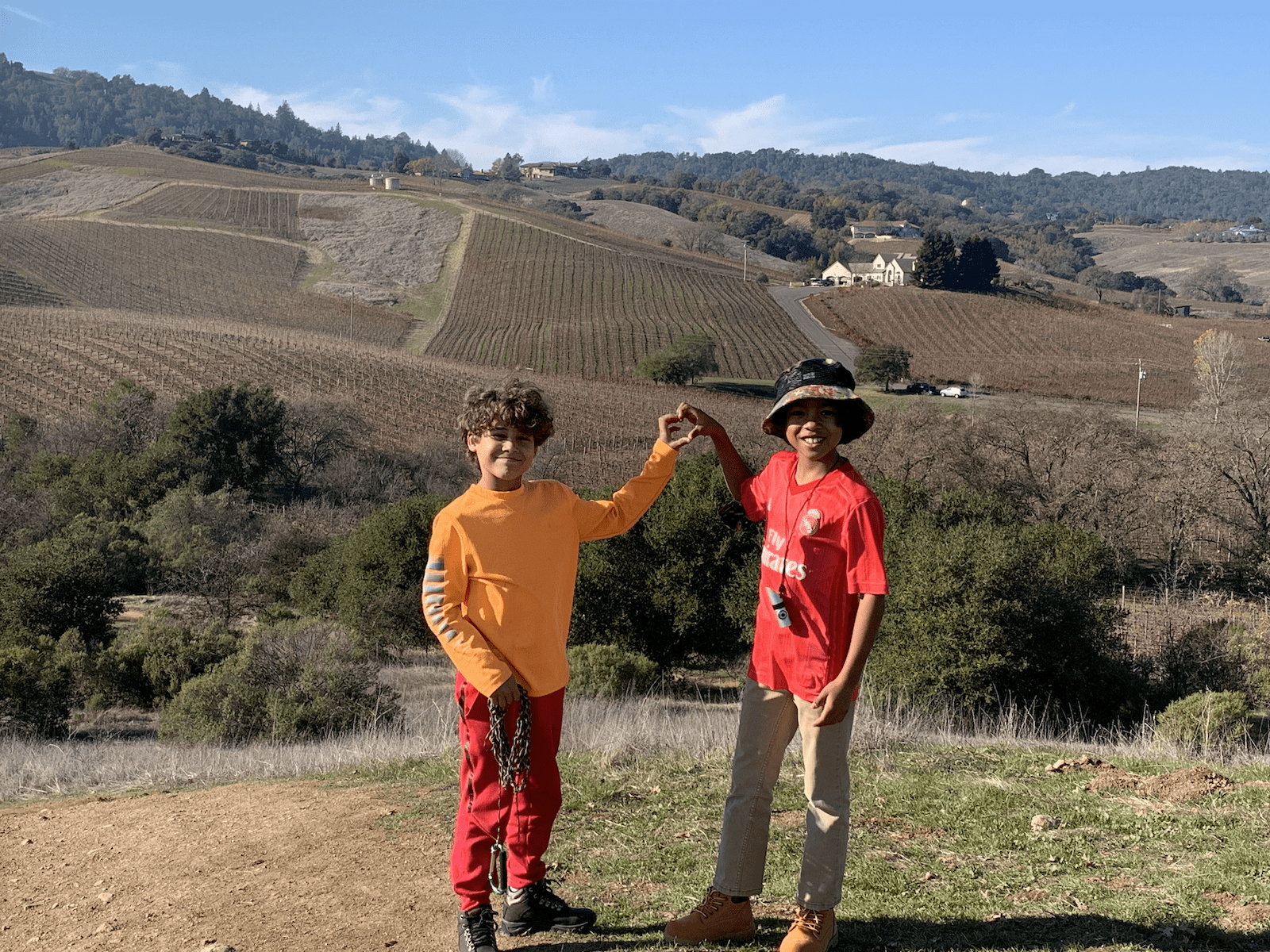 Caption: Ms. Savvy's kids, Cameron & Caleb hiking at Alston Park 🏃🏽‍♂️🥾🏃🏽‍♂️🥾
---
We've been cooped up in the house for most of December and now through January. Thankfully this holiday weekend is going to be gorgeous. My family and I will for sure be riding our bikes along The Napa Valley Vine Trail! 
We love the bike trail and especially Napa's art movement called Rail Arts District Napa (RAD Napa) which begins near the Oxbow and continues northward for 2 miles along the bike trail. 
If your bike 🚲 needs a tune up, be sure to see Jeremiah at Napa Valley Bike Shop on Pearl St. It is located downtown right off the bike trail. Jeremiah was so helpful when my son's chain kept popping off. He got us back on the trail pronto! 
We enjoy packing a picnic lunch and dining al fresco at Oxbow Commons. The kids like to bike & scooter along the Oxbow commons areas. Be sure to wear a mask. It's easy to maintain social distance.  But you will most likely run into someone you know doing the same. 
If you don't feel like packing a lunch, stop by Napa Noodles  🍜🍱first and pick up their family meal special! Allison and staff are great and will pack utensils & extra condiments for your picnic! 
A hidden gem along the Napa River is the Oxbow Preserve. It is located on McKenzie Dr. off Silverado Trail near the First St. Bridge. It is kinda an awkward road to get to the parking lot. But then it is easy to spot the unpaved trails through trees that lead to the Napa River. The park is also a popular fishing spot.*
Another favorite fishing spot is at the Napa Yacht Club dock located at 100 Riverside Dr. We like to go at dusk and watch the sunset over the Napa River! 🏞
An additional place to catch the sunset is The Napa River Bay Trail.  The River Bay Trail is located on Wetlands Edge Road and Eucalyptus Drive in American Canyon.  Kids & adults will enjoy abundant wildlife and bird viewing along the trail. It's an easy hike for children that is also suitable for biking and horseback riding. The park boasts a "glass beach" which is fun for finding treasures! 
Our go to hiking spot is Alston Park off Dry Creek Rd. There is a north entrance  about 1 mile north of the off leash dog 🐶 park entrance.. It's a perfect hike for kids. Again, pack a mask! I see many friends there enjoying the same!
 * Any person who is 16 years of age or older must possess a valid sport fishing license when taking any fish, shellfish, reptile, or amphibian in California (Fish and Game Code Section 7145).
---
About Claudette Shatto 
Claudette is Napa savvy! Coupled with her upbeat personality she is the perfect new addition to "The Vine" on-air team.  
She has lived in the Napa Valley for 20 years. She is married with two elementary-aged children. 
When not on-air, Claudette is a Professor at Napa Valley College. She is also a contributing blogger for Napa Valley Kids.  Her recent passion project is teaching leadership to first graders. 
You can listen to her on-air Mondays & Fridays from 3 pm to 7 pm.