Holiday Movies To Get Your Teens and Tweens Cuddling Again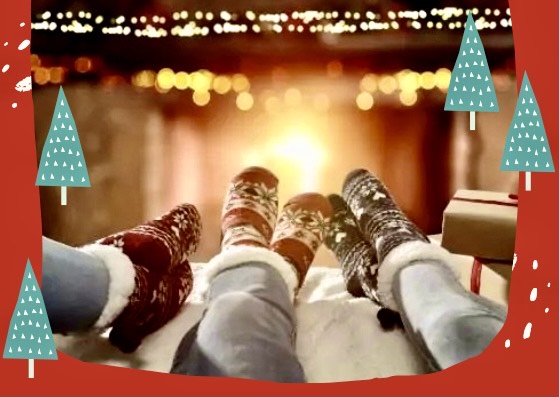 One of my favorite things to do during the holiday season when my kiddos were younger was to snuggle on the sofa with mugs of hot chocolate, bowls of popcorn, cozy blankets, and a favorite classic movie (usually one dripping with the nostalgia of my own youth). These evenings usually involved claymation characters, a lesson about the season delivered while holding a blankie, and/or songs sung by the classic voices of Jimmy Durante, Burl Ives, Mickey Rooney, Fred Astaire or Boris Karloff.
Now that they are firmly-footed in young adulthood (ages 17 and 20), their schedules are busier and, when home, there is more and more time spent in their rooms. Certainly not all, but some of the "magic" and "sparkle" of Christmas has waned along with being "too old" for all the cuddling of days gone by. 
They may have outgrown my lap, but I KNOW they still love hot chocolate (my oldest in college just told me of a hot chocolate 'charcuterie' board she and her roommates made). Maybe the trick is just upping the movie game and finding ones that are more "teen-friendly"….
I recently set out on a quest to get a wide range of responses for holiday films that would fit this bill. I posted the question "We all have our favorite holiday movies, but what are your TEEN'S favorites that will get them to snuggle on the couch every time" on my personal Facebook page and questioned pretty much all their friends and every parent of a teen I could find. There were a lot of repeats ('Elf' is the big winner for sure), but some surprises as well. Here are the results of my highly scientific study 😉. Hopefully you will find some festive new suggestions or be reminded of some old favorites. Any you'd add?
Nightmare Before Christmas

White Christmas. . . and Elf 

The Grinch w Jim Carey

It's a Wonderful Life

My girls love Home Alone also … the pizza scene!

Sound of Music

I don't really like holiday movies. They all have something that gives me second hand embarrassment. I always get so uncomfortable watching the Thanksgiving Charlie Brown where Snoopy makes the weird meal…But I love the sad little tree with the one ornament.

Die Hard.

(I have boys )

Love Actually!

Elf

Family Man — One of MY fave Christmas movies, too

We just watched the New Home Alone… it was so bad that we bonded over our criticisms

. Good times!

The Year Without a Santa Claus (Heat Miser and Snow Miser)

The Holiday

The Christmas Chronicles, The Grinch, Polar Express, Elf, and, of course, Die Hard!

A Christmas Story, Home Alone

Elf!!!

Elf and The Grinch

My girls love Elf. It is a must and first every Christmas. The Santa Clause is the next one; then Santa Clause 2. Home Alone 1 and 2, the Grinch, The Holiday, and Christmas With the Kranks

The Grinch, Home Alone, A Christmas Story, The Nightmare Before Christmas…and Charlie Brown!

Since I am raising a couple boys, it is probably Die Hard (which is totally a Christmas Movie hands down…lol) or Jingle All the Way with Arnold Schwarzenegger. My teenage daughter would probably say Home Alone or anything on the Hallmark Channel 🎄🎅🏼.

Elf and Polar Express

Year Without a Santa Claus (with Heatmiser and Snowmiser ) is a must. Polar Express is definitely up there as the kids know the book always makes me cry. The Grinch (original version) is a must. A new one for us this year was 8 Bit Christmas. We thought it was better than A Christmas Story (🤔). Don't forget Charlie Brown Christmas.

Elf!!!!

Elf and Home Alone

We love to watch Elf, The Sound of Music, and The Holiday together

My boys love watching Hallmark movies with me.  ❤️ 🎄 One even has a Hallmark blanket. He's 14.

Oh Polar Express, 100%. I love that movie. Any of the Santa Clause movies too

Elf, The Grinch, Charlie Brown Christmas

Elf for sure! And of course A Christmas Story! ❤️💚  
We usually watch The Sound of Music as well. But most of our holiday screen watching as a family is The Warriors! They are kickin' arse right now!! 😅