Girl, Put Your Records On…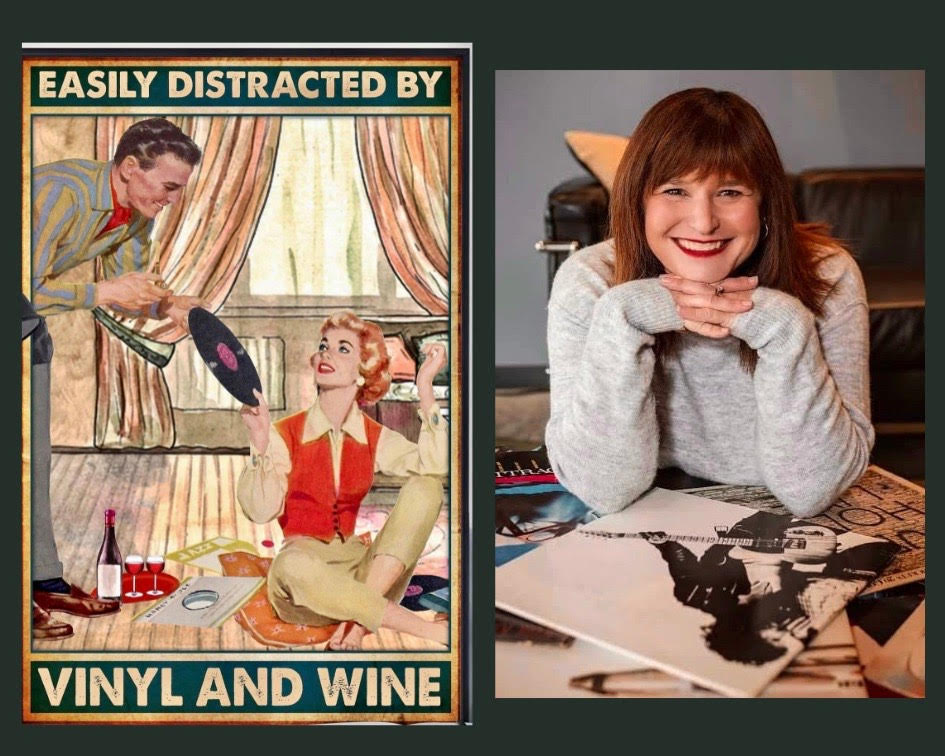 My history with records is long. As a young child, my little orange "suitcase" record player was my favorite toy, with endless hours spent listening to Disney albums, those books with companion records (the first audible books?), and – like so many children of the 70's – Marlo Thomas and Friends' "Free to be You and Me". At my 8th birthday party, friends gave me "Mickey Mouse Disco" (don't judge – it was 1979), the "Grease" soundtrack, and a Beach Boys double album. The first record I remember buying with my own allowance was an "On Seen On TV" K-Tel record called "Dimensions". Looking back, it was super random; featuring the range of  musical stylings from (I'm not kidding) rocking out with Billy Squier, Greg Kihn Band, Pat Benatar, Hall & Oates, and Rick Springfield to the soft sounds of Air Supply, Pablo Cruise, and The Alan Parsons Project. If that wasn't eclectic enough, they threw in Juice Newton and The Oak Ridge Boys for good measure. All on one album – the ultimate mix-tape in vinyl form.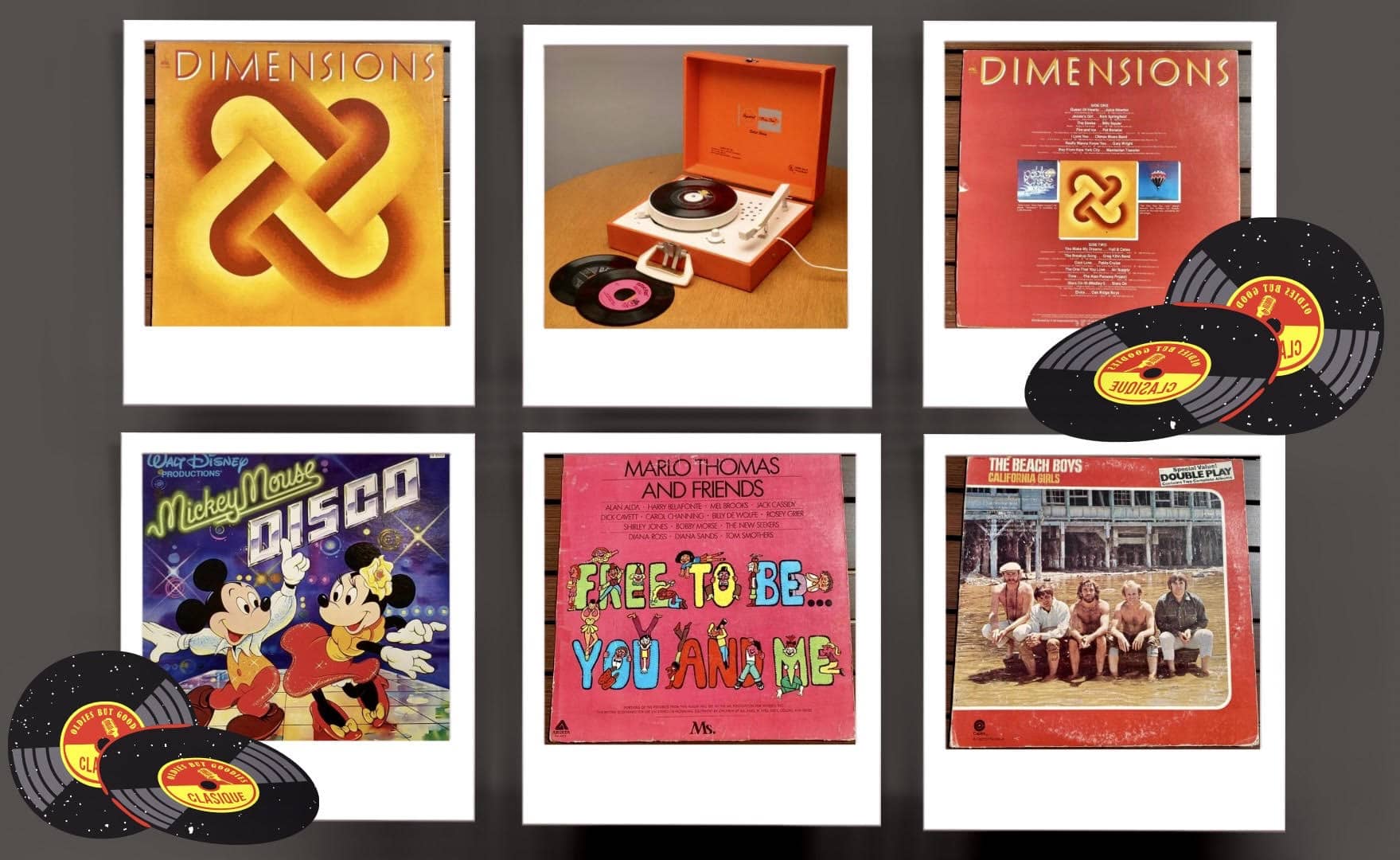 In the 80's, my suitcase player got an upgrade, separate speakers, and it's own piece of furniture. Income from babysitting and my mall job was predominately spent at Tower Records in Campbell – as were many evenings with friends. I spent afternoons poring over my dad's record collection and became obsessed with his copies of Buddy Holly (& other 50's greats), Bob Seger, Janis Joplin, the Rolling Stones, Cat Stevens, Abba, John Denver, and Fleetwood Mac. My collection grew with additions of 80's standards from Duran Duran, Howard Jones, Bruce Springsteen, The Go Go's, Billy Idol, Def Leppard, Midnight Oil, Echo & the Bunnymen, Journey, B-52's, The Cure, and many others that made little sense sitting side by side…but I loved them all. Album art and liner notes were the ultimate in artistic culture as far as my teenage self was concerned. I had friends who were indifferent…and those who would come over with their own armfuls and we'd spend the night sharing new discoveries with each other. This could also be done with the addition of blank tapes and the recording of our albums on to ridiculous amounts of MIXTAPES.
The 90's brought on the allure of the new technology of the CD. Smaller, more portable, and NEW…my records, sadly, took a backseat and were forgotten for quite some time…as digital followed the CD. Thankfully, much to my husband's dismay, those records moved with us throughout the years and I never got rid of them.
Knowing I still had boxes of records in the garage with nowhere to play them, my husband gifted me a turntable for Christmas about 9 years ago. With my kids getting older (less toy clutter around), I eagerly carved out a corner of the house for it along with my garage records. Taking them out felt like getting reacquainted with old friends. The memories of the hours spent came flooding back. Later that year, I was helping my parents get some things out of their attic when I glanced over and saw the boxes of Dad's records. "Do you even still have a record player?" "No…but I just haven't gotten around to getting rid of them." "Great! They are coming home with me and you'll have complete visitation rights." The walks down Memory Lane continued.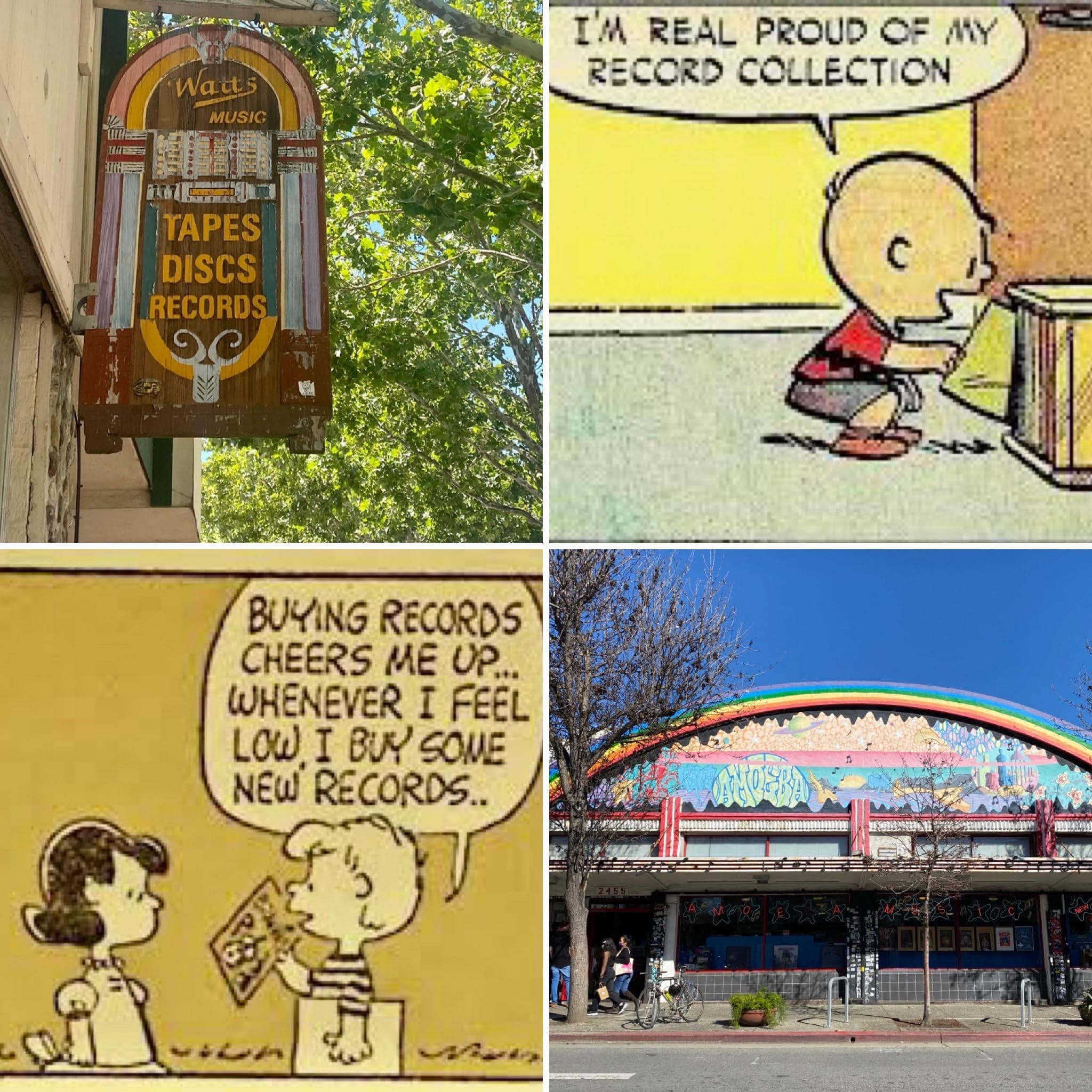 Like many others during the lockdown that was 2020, my eye wandered throughout my home finding things that could be upgraded. I had my eye on a much-more-than-I-wanted-to-spend record player stand on Etsy that I realized, with my husband's help, could be made at home for half as much…and that's how we spent last Valentine's Day weekend. Who says romance is dead? Another happy addition to my life with vinyl over the past few years has been the growing interest in it of my youngest daughter (now 17). She has bought some herself, put certain copies on Christmas wish lists, and sneakily added some of mine to her bookshelf next to her own player…and I don't mind at all. One of our favorite things to do together has been to head down to Berkeley where she can hit up a few thrift shops for outfits that resemble my closet from days gone by and then "treasure hunt" at Rasputin's or Amoeba Records on Telegraph.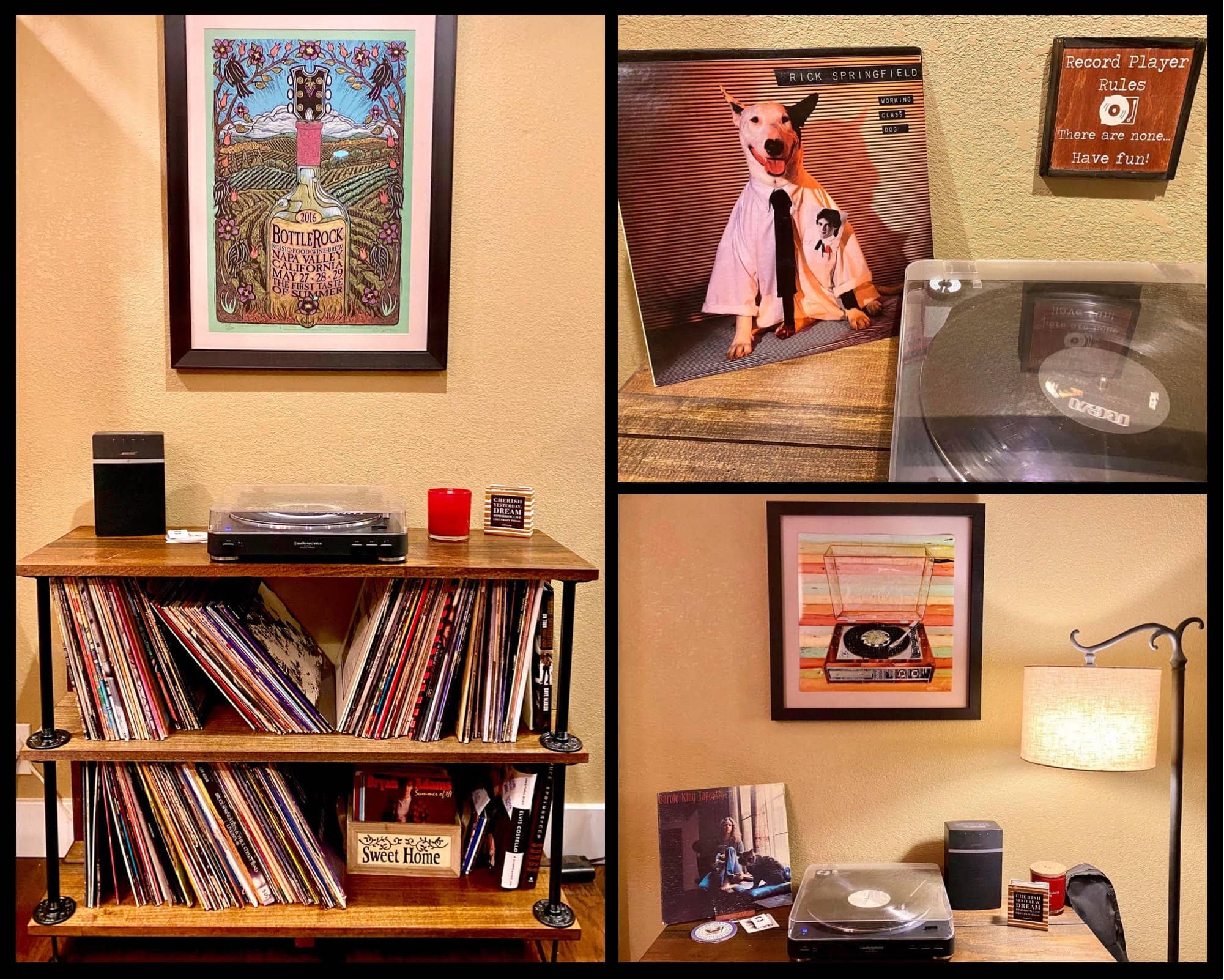 As much as I have been enjoying this long-lost love, I am not alone. In recent years, something odd has happened: Vinyl has made a small but mighty comeback. According to the Recording Industry Association of America, in 2020 — and for the first time since 1986 — revenues from vinyl records were larger than from CDs. It's even been reported that pressing plants have struggled to keep up with the demand. The main consumers of vinyl are not just middle-aged folks trying to regrasp their youth; statistics show that around half of those buying vinyl these days are under the age of 35. Just walk into an Urban Outfitters and the shelves of records and players being marketed to teens is right when you walk in.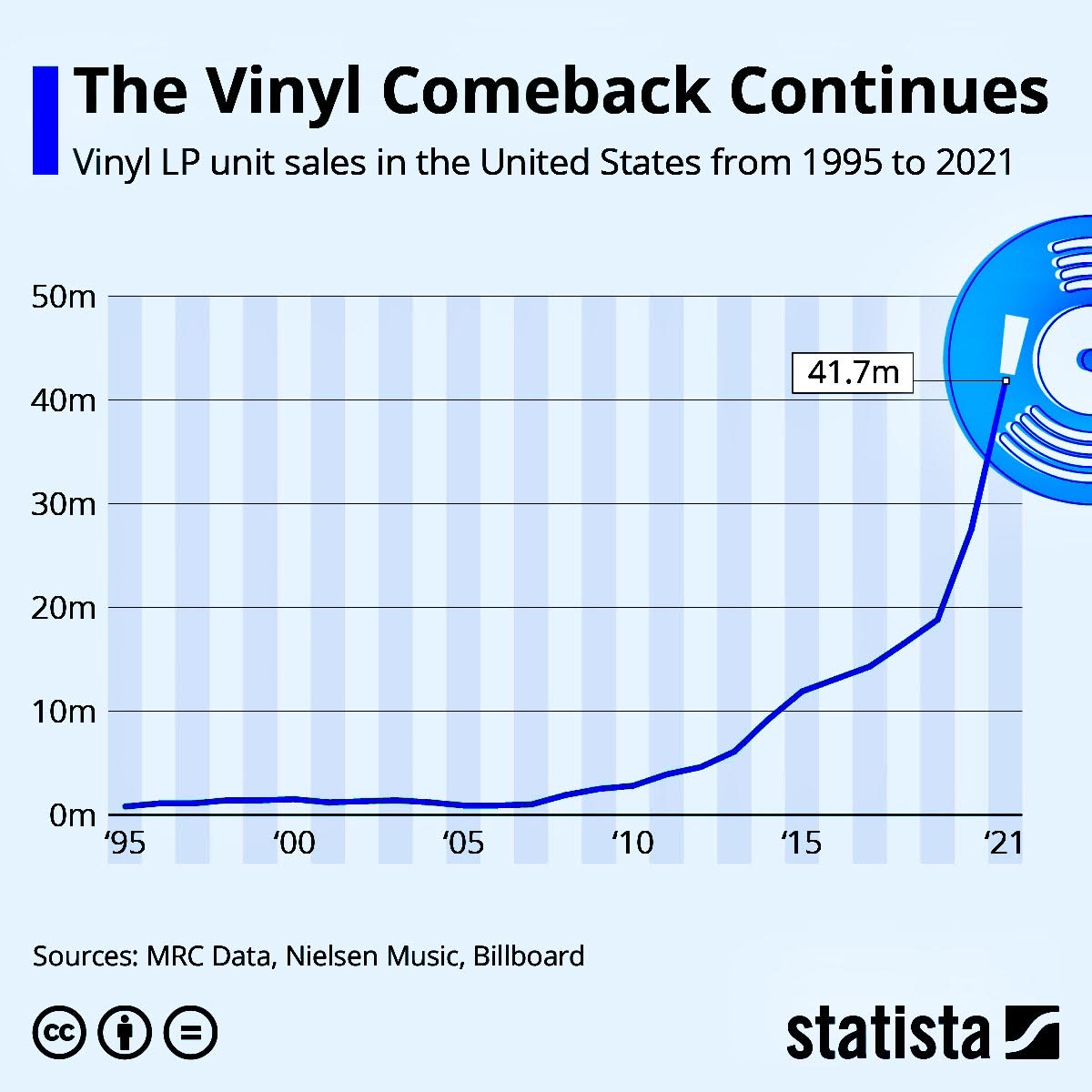 There are quite a few reasons for the resurgence. 
This aspect is obviously subject to personal taste. Many people find great joy in the crackling sound you can get off an older album. There is also the argument that the analogue-ness of records has a warmer, fuller sound than digital music.
There's a ritualistic aspect to vinyl that a lot of people (including me) are drawn to. The act of deciding what to listen to, putting a record on—removing the record from the sleeve, placing it on the player and gently dropping the needle on the right groove—is a process of engaging with music. You can't just hit "Play" or say "Alexa, play_____". You need to be present, even if just to flip it over to the B side. Music becomes an activity, rather than just background noise. Episode 1 of "And Just Like That" (the SATC reboot) even had a scene where Mr. Big and Carrie are making dinner and she asks what letter they are on, referring to the album collection. The answer was "R" and on Todd Rundgren went.
Silly as it sounds, there is something wonderful about just being able to hold an album in your hands, read the liner notes/lyrics, and admire the artwork. Styx's "Paradise Theater" wasn't nearly as engaging on CD. Digital downloads or streaming doesn't even have an equivalent. Then there can be the whole buying experience. You can go to a store, flip through bins and bins of albums and can sometimes find unexpected surprises. A well-stocked record store can be an adventure and I've had some memorable conversations over the bins with friends and strangers alike.
With digital music, it's common to flit from artist to artist, from song to song without much continuity. It's a much more personal experience to listen to an album from beginning to end, in the order the artist intended it. In many cases, there is a definite order to why the songs are placed as they are; it's a "journey" of sorts. How many times have I heard a song end and my mind has instantly gone to the next song on the album…even if that's not how I'm listening at the moment? 
Plain and simple, for many of us there is a sentimentality to it. There are memories attached to certain albums. For those too young to be able to miss them, there are a couple factors – one being the sheer novelty of it, another being the popularity of all things "vintage" and "retro" these days. My daughters love going to thrift stores and digging for vintage fashion finds, vinyl records fall in a similar mindset.
Whatever reason people have for their old or new affection for records, one of the great things about being alive today is our ability to have the best of both worlds—the timeless appeal of tangible, physical records alongside the seamless and easy access to vast musical possibilities that come with streaming formats. I love them both, but for now, I'm going to go flip the record over. 
I'd love to hear your vinyl record memories and thoughts!